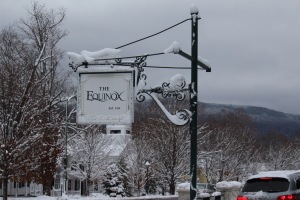 My "gratitude awareness" was at its peak, as my family got into the SUV on Wednesday morning for a three-day Thanksgiving getaway.
My wife, two daughters, and yellow lab Buttercup all got up early so we could hit the road before the forecasted snow storm was to begin . . . destination, The Equinox Spa and Resort in Manchester, Vermont.
Grateful for the ability to take such a getaway in the first place, I fully enjoyed the family atmosphere, the hot coffee, and the dime-sized snowflakes that started falling about halfway through our our 150-minute drive north.
Built back in the late 1700's, the Equinox has housed many of our nation's forefathers as far back as the Revolutionary War. I appreciated the history, felt the ghosts, ate Thanksgiving dinner at a house once owned by Abraham Lincoln's son, Todd, and even drank a glass of whiskey from the same tavern as Ulysses S. Grant had.
Coming home, recalling the wonderful (and as always, too short) time we had I began to itemize all the things that I was grateful for. (I know, I'm cursed! LOL) And guess what impressed me most?
On Wednesday night I wanted to pop a bottle of wine I had in my suite. There was no corkscrew. So I called the front desk and asked for one to be brought up. I hung up the phone and looked around for wine glasses and there were none. Within less than two minutes I had a knock at my door. It was a bell clerk with a corkscrew and two wine glasses (that I hadn't even known to ask for).
In a resort that large, packed to capacity on Thanksgiving, I was shocked (in a good way) to receive "more than I has asked for" in just a few minutes. What's more, the front desk called my room five minutes later to confirm that I had received my request.
THAT, is called "over delivering" and is the reason – small as it may seem – that I'd recommend The Equinox to any close friend.
As Zig Ziglar would say, "it's the part of the blanket that hangs over the bed that keeps you warm."
The big question would be, what do YOUR customers think about after doing business with you? Trust me, if they're as impressed as I just was, then you're in great shape!
* Full disclosure: The corkscrew / wine glasses gesture overshadowed the poor-to-mediocre service we received at dinner just 45 minutes later, proving you don't have to be perfect to leave a positive impression!