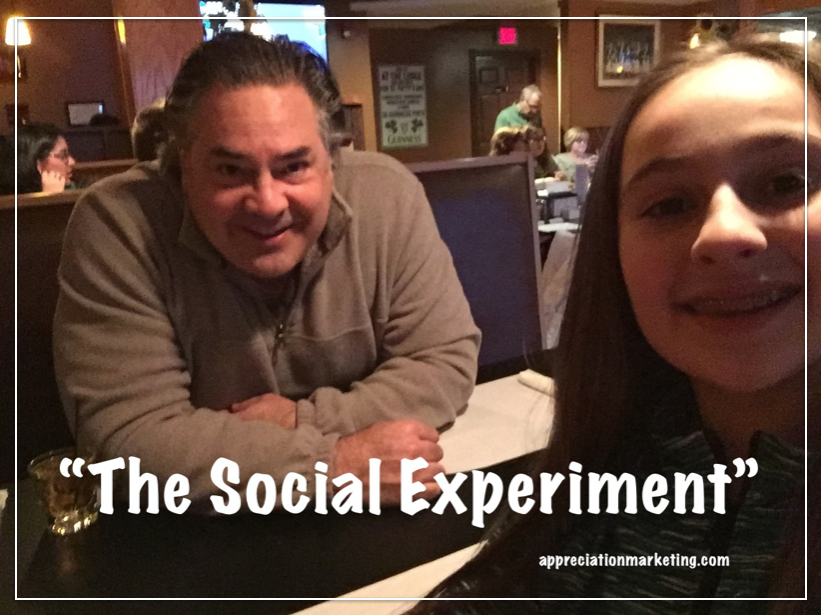 I drive my eleven-year-old daughter to school every morning, and she always wants to stop at Dunkin Donuts. Being a father who spoils his kids (I know, bad idea, but I'm weak) I cracked one day. Then I came up with an idea to create a learning experience and conduct what I call, "The Social Experiment."
With my coaching, Cassidy goes into Dunkin Donuts with a big smile. She says "good morning" to the people behind the counter and, with excellent manners (eye contact, please, and thank you), orders one donut with strawberry frosting and sprinkles and hash browns (I know, bad idea, but I'm weak). It always comes to $1.86, she always hands over two dollars and puts the 14 cents into the tip jar, smiles, and says "thank you" and "have a great day!"
I went in with her every day for the first week. Then I started having her go in alone as I waited in the car.
The rules are always the same; smile, be friendly, and be polite. My daughter is still a little shy and didn't like my advice when I told her to ask the people their names. "Just say, what's your name?" I told her. She was mortified at the thought and could not get past that comfort zone.
Fast forward, three weeks:
This morning I went into the Dunkin Donuts with my daughter. It was wonderful seeing the room brighten up as she entered. The staff immediately put on smiles, and went to work bagging her order (without her having to even place it) before she was halfway in. "Good morning Cassidy!" came from a woman behind the counter. "Good morning, Chris!" answered my girl. Suddenly, a few more faces popped up smiling, "Good morning Cassidy!" In turn, she answered, "Good morning Muhammad, good morning Jake." Turns out, Chris owns the place.
"Your daughter is so cute," Chris says to me. "We all look forward to seeing her every day."
"Thank you, I think she's pretty terrific too," I replied.
My hope (and expectation) is that Cassidy will translate this lesson – this aura – into everything that she encounters, every business that she enters, every teacher she interacts with, every friendship that she builds. I like my odds.
Imagine what your personal and professional life would look like if people looked forward to seeing you every day. There's a distinct and overwhelming advantage in life when you can light up a room every time you enter. And yes, its a talent that can be learned.
It ALWAYS starts with you.
Category: Uncategorized